CREATIVITY CONTEST
"Competition and Art"
The Hellenic Competition Commission announces a creativity contest in its attempt to promote the principles, message and culture of competition through the use of modern digital means.
The aim of the contest is to choose the best proposal/idea from a functional, aesthetic and technical point of view for the creation of a Symbolic Figure and a Video/Message and to award the best entrance in each category with high-tech electronic devices.
It is our desire to support young artists, and promote a culture of competition, in particular to the younger generation.
By this contest, we encourage them to develop their skills, imagination and creativity as well as to leave their mark on the HCC's new communication strategy, for the benefit of the Authority's role, sound entrepreneurship and economic efficiency as well as of society as a whole.
You can send your entries to the Creativity Contest from Monday, July 20, 2020 at 12.00 until Monday 26 July 2021 at 17.00.
FIGURE

CREATE A FIGURE GIVING SHAPE TO COMPETITION

Draw an original figure and breathe life into the values and ideas advocated by the HCC.
Conceive what will symbolize, incarnate and promote the HCC's fight against anti-competitive practices (especially cartels). Sound competition is the cornerstone of growth and social welfare.
The Figure will be used to create comics, infographics and promotional advertisements which will promote the principles of undistorted competition.
Let's shape it!

VIDEO

CONVEY OUR MESSAGE

Create a video up to five minutes in length, using the technique of your choice.
Use your imagination, write the script, direct the video and be the author of our new promotional advertisement putting across the messages and the value of sound competition, both in terms of entrepreneurship and growth, and society as a whole.
Besides, Competition is a win-win situation!
COMPETITION & ART
Terms & Techical Specifications
The contest is open to all (individuals as well as legal entities).
Entry is open to both individuals and groups.
For any entries by legal entities, the electronic submission shall be made by their legal representative.
The submission and assessment process will be fully electronic, in order to reduce costs and minimize the negative impact on the environment.
After the successful completion of the entry form, all interested parties will receive via their E-mail an 8-digit Unique Participant Code.
The members of the Jury, the HCC's staff and the members of the Commission or persons who are professionally or by first and second degree related with them are not eligible to apply.

Click the "+" symbol for Technical Specifications!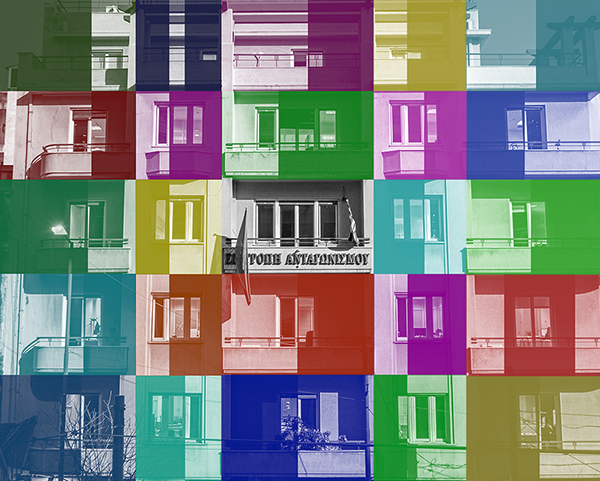 FIGURE
The Figure must be a representational object that reflects the essence and principles of effective competition, while symbolizing a modern and pertinent public authority, which approaches businesses and consumers directly and speaks their language.
The candidate design shall be original, distinct, simple, fit-for-purpose, positive, comply with any third parties' intellectual property rights ("copyrights"), not be offensive, be distinguished for its artistic, design and technical merits.
It must be suitable to be placed anywhere, against a dark or bright background and be immediately understandable. The Figure should be visible, both in its color and in black and white version. It should be non-alterable in color regardless of the application in which it will be used. The original design must be developed in vector-eps (Scalable Vector Graphics- SVG) and not in PSD, TIFF or JPEG image format.
The color range of the Figure shall be limited to PANTONE 4 colors or the 4 colors of the four-color (CMYK) range. It must be suitable for use in linear black and white and color (CMYK or PANTONE) printing, as well as in dimensions ranging from 1.5 cm to 100cm, remaining unalterable and visible. In case of unique colors, the colors used in both the Pantone and the CMYK versions must be accurately specified.
We are looking for the best proposal, from a functional, aesthetic and technical point of view, in terms of communication efficiency, content and immediacy of the symbol, as well as the elements of originality embodied in it.
The Figure shall be sent electronically in a .zip format via the relevant electronic form. The compressed file shall contain the following files:
(1) Scalable Vector Graphics- SVG file (.eps);
(2) Black and White Vector Format (.eps);
(3) Black and White Negative Vector Format (.eps);
(4) Pantone SVG format (.eps);
(5) CMYK SVG (.eps);
(6) Jpeg RGB 300dpi;
(7) Black and White in Jpeg 300dpi format;
(8) The figure 1,5 x 15 cm in PDF;
(9) Candidature identity in PDF: Title, Short description and Author's/Authors' and copyright holder's/holders' identity.

VIDEO
The Video/Message must convey the positive message and value of effective competition, both for the benefit of healthy entrepreneurship and economic growth, and for the benefit of consumers and social welfare.
The candidate video/message must be original, fit-for-purpose, positive, comply with any third parties' intellectual property rights ("copyrights"), not be offensive, be distinguished for its artistic, design and technical merits.
The candidate video must have original content, consisting of image and audio. The author must have all the licenses (model releases, music licenses, etc.) required for reproduction by any means and without any spatial or time limit.
Candidate Video submission process:
a) Fill in the relevant electronic contest participation form as in the case of Figure submission above, but without sending any files;
b) Receive, from the system at your E-mail address, a proof of participation with an 8-digit Unique Participant Code, of the form XXXXXXXX;
c) Rename the Η.264 copy file with the Unique Participant Code (e.g. ΧΧΧΧΧΧΧΧ.mp4) and send it via an online large file transfer service (e.g. WeTransfer), together with an accompanying file in pdf – with the same name as the video (of the form ΧΧΧΧΧΧΧΧ.pdf), providing details of the candidature identity (Title, Short description and Author's/Authors' and copyright holder's/holders') at This email address is being protected from spambots. You need JavaScript enabled to view it., including your identification details (full name) and the E-mail address that you have stated in the participation form.
d) The winners will be required to submit the original video (master) according to the technical specifications described below.
We are looking for the best proposal, from a functional, aesthetic and technical point of view, in terms of communication efficiency, content and immediacy of the message, as well as the elements of originality embodied in it.
Video technical specifications:
Video length: limited to 5 minutes;
Resolution: FULLHD, 1080p - 1920x1080 pixels.
Free to select any cinematic style (e.g. Narrative, Animation etc).
In case of dialogues, voice over and titles, all those are preferable to be in Greek or to be able to be translated in Greek, if needed.
Original video (master) quality: Prores 422HQ, Frame rate: 25, Chroma subsampling: 4:2:2, Bit depth: 10, Audio format: PCM, Audio bitrate: >2000 Kbps, Audio channels: 2 (Front L R), Audio bit depth: 24bits.
Copy quality: H.264, Frame rate: 25, Chroma subsampling: 4:2:0, Bit depth: 8, Audio format: AAC, Audio bitrate: 320 Kbps, Audio channels: 2 (Front L R), Audio sampling rate: 48.0 KHz.

Important note:
DESIGN, PHOTO AND VIDEO FILES SUBMITTED MUST NOT CONTAIN ANY REFERENCE TO OR REVEAL IN ANY WAY THE IDENTITY OF THE AUTHORS AND OF ANY OTHER PERSON INVOLVED IN THE IMPLEMENTATION OF THE SUBMITTED ARTISTIC WORKS.
AUTHORS' AND CONTRIBUTORS' PERSONAL DETAILS SHALL BE STATED ONLY IN THE PARTICIPATION FORM AND IN THE ACCOMPANYING PDF FILE CONTAINING THE IDENTIFICATION DETAILS OF THE ARTISTIC WORKS SUBMITTED.
ANY REFERENCE TO THE AUTHOR'S IDENTITY IN ANY OTHER DESIGN, PHOTO AND VIDEO FILE SUBMITTED SHALL BE GROUNDS FOR EXCLUSION FROM THE CONTEST.


2 GRAND PRIZES
Our Prizes
 

The best entrance in each category will receive a high-tech electronic device.
FIGURE

Professional TABLET
VIDEO

Professional LAPTOP
HELLENIC COMPETITION COMMISSION
Learn about us
At the HCC, we are a group of people specialized and highly qualified in our field, fully adapted to meet the challenges of our time, highly motivated and with enthusiasm and great zeal for contributing to the national economy and society. We firmly believe in the digital age, we fight bureaucracy and seek progress. We want everyone to be able to develop their potential in entrepreneurship and we welcome changes as positive challenges!
Click the "+" symbol for more information!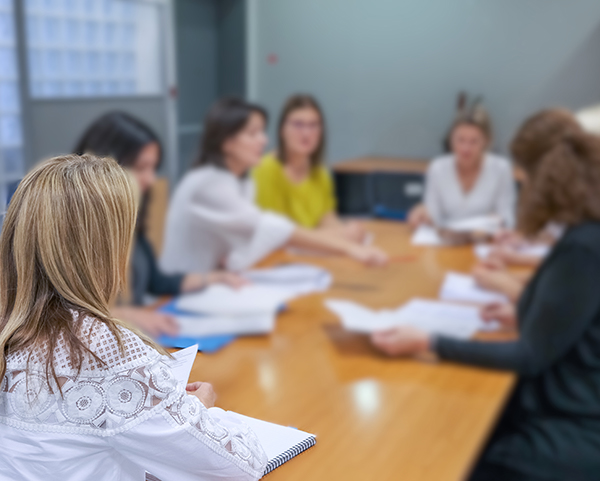 OUR PHILOSOPHY
Our philosophy embodies the development and fostering of a culture of competition in Greece, going beyond "traditional" interventions inherent in the public sector. Effective competition has positive social effects and improves the people's welfare in their role as consumers, producers, workers and citizens.
1. Competition leads to lower prices, better quality and broader choices of products and services for consumers.
2. Competition allows producers to obtain raw materials and services at lower prices, enhancing the competitiveness of their businesses in the domestic and international market.
3. Effective implementation of competition policy helps small businesses enter the market and survive by protecting them from possible anti-competitive practices of large companies.
4. Competition enhances the efficient functioning of markets, employment, productivity, investment, innovation, competitiveness and national economic growth.
5. In the context of rapid technological change and modern forms of trading and in the presence in the digital markets of companies that are tech giants, the effective implementation of competition policy is crucial for minor market players or those who are not given the advantage of new opportunities shaped in digital markets.
OUR MISSION
Our mission is to identify and fight against practices that restrict/distort free competition and adversely affect market operating conditions. Such practices may consist in:
a) Agreements between undertakings aiming at or resulting in competition restrictions. A typical example of such behavior is the case in which some companies active in the same industry agree on a commonly adopted increase in the retail prices of their products (cartels).
b) Abusive Behavior of companies with a very strong position in the market (market share). Examples of such behavior are the charging of excessively high prices (or, on the contrary, the imposition of extremely low purchase prices on suppliers), (unjustified) refusal to sell as well as exclusivity practices. This ensures that smaller companies can enter and stay in the market, which must be free and open to all.
In addition, the HCC proactively monitors the impact of acquisitions/mergers of undertakings on competition aiming at deterring the occurrence of the above practices in the future.
OUR PEOPLE
The HCC is us, its people: 114 staff members with high-level scientific qualifications and an average age of 44 year.
THE HCC'S PERFORMANCE "AT A GLANCE"
ON-SITE INSPECTIONS FROM 2011 TO 2018
MILLION EURO IN FINES (2000 - 2018)
MILLION EURO GAIN FOR CONSUMERS in GREECE (2002 - 2018)
JURY MEMBERS
Contest Jury
The Jury of the Contest, apart from the HCC's officials, consists of persons of recognized standing in the fields of Painting, Sketching, Cinema and Communication who devote their time to the contest without remuneration.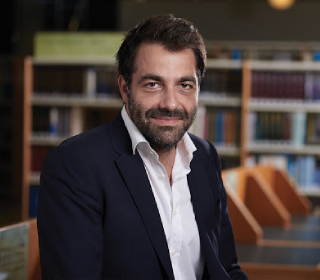 Konstantinos Lionakis holds a PhD in Marketing (awarded by Emerald). He has published several articles in academic journals and international academic conferences, recently receiving the Best Paper Award for his paper on Marketing-Sales cooperation at the 2015 GSSI conference. He teaches Sales Management at the master's programs of the Athens University of Economics and Business and the Agricultural University of Athens, and marketing courses at the undergraduate level (awarded for "Teaching Excellence" by the MBA Program of Athens University of Economics and Business in 2019). Beyond his academic work, he also manages a consulting firm in the field of Marketing, having participated in numerous consulting studies and seminars for the private sector. He has worked in companies in the field of Sales.
KONSTANTINOS LIONAKIS, PH.D.
MARKETING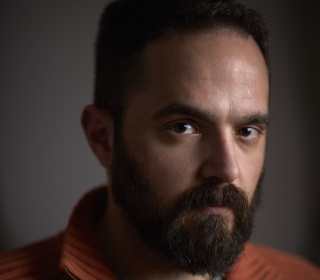 Nikos Moschos was born in 1979 in Heraklion, Crete. He studied at the Athens School of Fine Arts. He works and lives in Athens. He has conducted eight solo exhibitions and has participated in numerous groups exhibitions in Greece and abroad.
He has painted numerous works for book covers, CD's, films and magazines. His works feature in the Benaki Museum / Athens, Sammlung-Schirm / Berlin, PTE Fine Arts / New York, Bernard Cheong Collection / Singapore, A. Krausser Collection (Dubai), the Copelouzos Collection, the Anthony and Asia Hadjioannou Collection and the Sotiris Felios Collection as well as numerous other private collections in Greece and abroad.
NIKOS MOSCHOS
PAINTER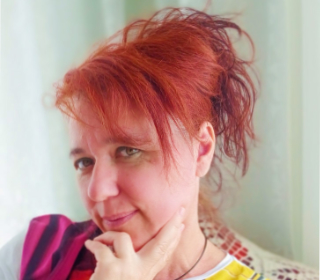 Georgia Dalagiorgou was born in Athens. She studied painting and holds a master's degree in engraving from the Athens School of Fine Arts (scholarships for the duration of her studies and graduating with honors).
She has had several solo exhibitions and has participated in dozens of group exhibitions in Greece and abroad
She lives and works in Didymoteicho as an active Mosaic artist.
GEORGIA NTALAGIORGOU
PAINTER – ENGRAVER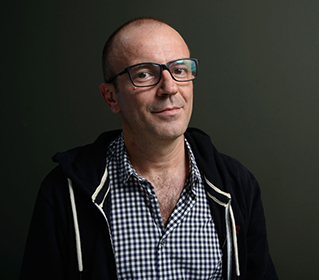 Giannis Sakaridis has studied Photography and History of Art at the London College of Printing. After taking his first steps in the cinema world with experimental movies, he studied Directing at the University of Westminster. He worked as a film editor for 17 years in Soho, in 18 feature films and in dozens of documentaries for the English TV. His first feature film as a director, WILD DUCK (2013), was entered into many festivals abroad. The film ΠΛΑΤΕΙΑ ΑΜΕΡΙΚΗΣ - AMERICA SQUARE (2016), co-produced by ΕRΤ and the Greek Film Center (GFC), won awards in many international festivals and was the official proposal of Greece for the Oscar for best foreign language film (2018). He produced and directed many short films and he also worked in a co-production with the German TV and ERT.
GIANNIS SAKARIDIS
FILM DIRECTOR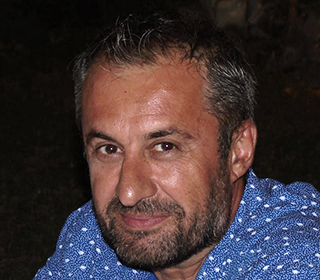 Georgios Tsantopoulos is a Professor at the Democritus University of Thrace (DUT). His research interests focus on Environmental Communication, Environmental Policy and Public Relations. Since 2006, he teaches on the Postgraduate Study Programs of the DUT. He has participated in many selection boards of doctoral and master's theses and he is the author of more than 180 papers published in international scientific magazines, presented in conferences etc. He has participated in 25 research programs financed by the European Union and National Resources, and he is a member of the Council of the Hellenic Quality Assurance and Accreditation Agency (HQA).
GEORGIOS TSANTOPOULOS
PROFESSOR OF COMMUNICATION & ENVIRONMENTAL POLICY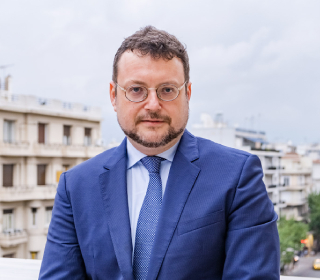 Ioannis Lianos is the President of the Hellenic Competition Commission (HCC) since September 2019. He is Professor, Chair of Global Competition Law and Public Policy and founding Director of the Centre for Law, Economics and Society at the Faculty of Laws, University College London (UCL).
In 2012, he was awarded the Philip Leverhulme prize for his seminal research. He is also a Laureat of the French Academy of Moral and Political Sciences (2005) and has received numerous prizes and scholarships for his research.
IOANNIS LIANOS
PRESIDENT OF THE HCC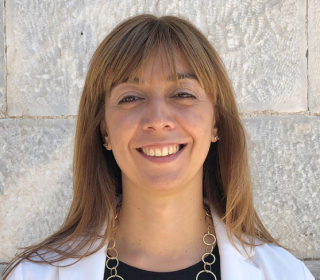 Kalliopi Benetatou is the Vice-President of the Hellenic Competition Commission (HCC) since September 2019. She holds a PhD degree of Economics in Competition, from the Department of Economics of the Athens University of Economics and Business and an MSc degree of Economic Sciences from the Department of Economics of the Athens University of Economics and Business.
Prior to her appointment as Vice President – Member of the Board of the Hellenic Competition Commission in 2019, she served as Head of Unit (2009-2011, 2019) and as Head of A΄Directorate of Economics of the Directorate General of Competition (2011-2019) and the Advocacy Department.
KALLIOPI BENETATOU
VICE-PRESIDENT OF THE HCC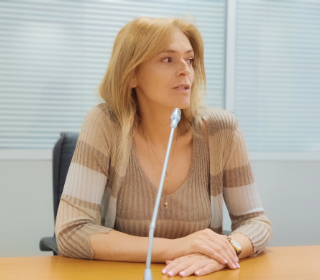 Eleni Stamatoudi studied Economics in Greece and completed her studies for a master's degree in business administration (MBA) in the UK. He has also studied Intellectual Property Law at the Geneva-based World Intellectual Property Organization (WIPO) Academy. She has held positions of responsibility working in marketing and communication and in the development of new products in the banking sector. She joined the HCC in 2011. He is also writing books for children. Her recent book, published in 2018, became a best-seller.
ELENI STAMATOUDI
CASE HANDLER, HCC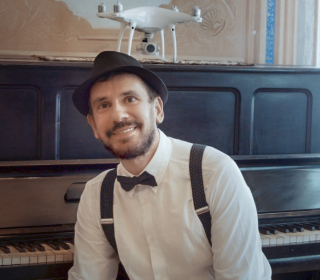 Kostas Gourloumenos is the Head of the Digital Communications and Public Relations Unit of the Hellenic Competition Commission. Apart from being a scientist holding a master's degree in Environmental Policy and Communication, he is also an award-winning filmmaker specialized in drones.
His artistic work has received 14 awards and more than 50 official entries in International Contests and Film Festivals, while he has received 84 distinctions and awards on DJI Skypixel's global aerial creation sharing platform where he has been awarded the SkyPixel Content Partner status.
KOSTAS GOURLOUMENOS
DIGITAL COMMUNICATIONS & PUBLIC RELATIONS UNIT
CONTEST ENTRY FORM
To participate in the contest, please fill out the special entry form after carefully reading the instructions and entry terms.